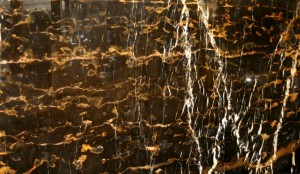 Michelangelo Black & Gold:
Michelangelo Black & Gold, an exotic stone that takes an ultra high polish. Our 2cm slabs imbue a rich, deep brown-black base with splashes of burnished ochre and warm butter- caramel veining, they are absolutely gorgeous! On a personal note this material conveys to me a sense of
masculinity, mystery, luxury
and
romance.
Whether you surround your shower with this material or as a vanity top there is no doubt that you'll savor every glance of this fine marble.
It is a timeless stone that has been adorned for centuries in luxury bathrooms, powder rooms, fireplace surrounds and buffet countertops.
This materials country of origin is from Pakistan.