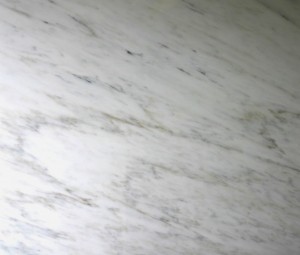 Imperial Danby Marble

This is probably one of the most widely used Marbles for kitchen countertops among many other avenues in terms of application, for instance this material was massively used in Washington DC as exterior cladding, flooring, countertops as well as carved elements. It is highly regarded for its durability and its low absorption rate which has officially been tested at 0.7%. This domestic & premier marble is quarried deep within the state of Vermont in the largest underground marble quarry in the world!
The Danby marbles are most definitely suitable for a commercial application and are appropriate and most aesthetically pleasing to the eye as kitchen countertop space or in a place to seek purity & peace such as in a bathroom with its softening vein appeal surrendering to warm gold's and misty grays. Where ever destined this material will appeal to all facets of ones lifestyle with its classical grace and its strong physical attributes.
We have this slab material in 2cm thickness with a Polished finish and 3cm thickness with a Polished surface finish as well as a satin honed finish. In addition we also house four other marbles from the Danby collection (Eureka Danby, Montclair Danby, Mountain White and the Olympian White)
Please find below a video of The Vermont Quarries featured on Modern Marvels
Stay tuned for next weeks up an coming stone feature of the week! In the meantime we invite you to our Stone Gallery to view this marble in person.
Enjoy!