Featured Stone of the week:
Posted on

admin

on

November 12, 2010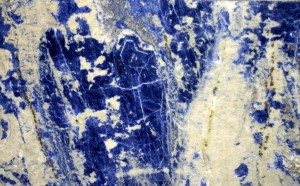 This week we'd like to illuminate a superb slab of Sodalite featured here in a lightweight 1 cm thickness, this is a super dense material known for it's rare properties (it is a close relative to Lapis Lazuli) A precious stone prized for it's ultramarine pigment & rich blues also known as the "Heaven Stone." Its highlights are most definitely its lustrous deep blue and the overall richness & depth. It induces one to recall a space of blue skies with it's scattered grains of gold-like pyrite that are akin to the stars, while others are captured by it's white calcite areas resembling clouds.
Perhaps this may be a material to please and appease you & yours that may be ideal for a vanity top, fireplace surround or any other fine furnishing application that you can imagine.
Stay tuned for next weeks featured stone of the week!