The MIA offers three categories of Accreditation:
Natural Stone Fabricator (primarily residential interior)
Commercial A Contractor (heavy commercial)
Commercial B Contractor (light commercial).
A company may be accredited in more than one category, depending on its business model.
The Accreditation Program continues the MIA's more than 60-year history of promoting excellence and accountability in the natural stone industry. For residential or commercial applications, MIA Accreditation signifi es that a natural stone fabricator or contractor:
is experienced in stone fabrication, installation and maintenance
is a solid, reputable business
operates in a responsible manner in compliance with OSHA standards
is dedicated to a quality product, quality installation and total customer satisfaction.
SEARCH FOR THE SEAL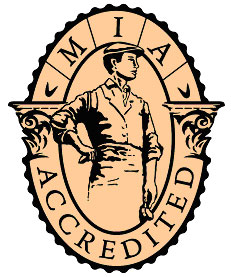 When you are shopping for a natural stone fabricator or commercial contractor, look for the MIA Accreditation seal. It is a meaningful quality indicator because only the finest companies in the industry can meet all of the qualifi cations necessary to achieve MIA Accreditation. The MIA Accreditation seal protects residential and commercial customers from unscrupulous businesses, poor quality product and shoddy workmanship.
When you work with a natural stone fabricator or commercial contractor displaying the Accreditation seal, you can be confi dent that your project will be completed in a professional manner, that questions or concerns will be promptly addressed and that your satisfaction will be the company's priority. The MIA Accreditation seal means peace of mind, from the selection of the slab through fabrication, installation and beyond.
FIND AN ACCREDITED COMPANY

Natural stone fabricators and commercial contractors that are MIA Accredited proudly display the Accreditation seal in their advertisements, showrooms, on company trucks and uniforms.
To find an accredited natural stone fabricator or commercial contractor in your area, click here.
Click Here for Information on Becoming Accredited.