Bianco Latino Granite
Posted on

admin

on

January 22, 2011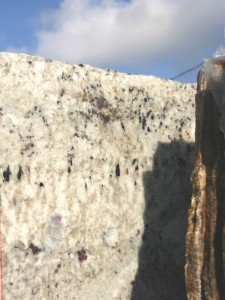 A Brazilian Granite with a moon -like luminance that shimmers with white opal, subtle mauve's, soft khakis and creamy whites. The overall crystalline structure is unique in that the crystals are much more magnified in size and orientation then some of the other granite materials that I have personally observed.
Our Bianco Latino Granite is available in a 3cm thickness (Nominal 1 1/4″) The slab size we have in stock are rather large,
coming in at a lovely (123″ x73″) so the overall usability of this material is a definite positive. The Bianco Latino Granite is currently available in a super attractive glossy finish revealing the inner most beauty of this natural
stone. In addition this granite is a strong & sound stone. The surface of this material is very durable and would serve quite well as kitchen countertops, vanity,
exterior applications and a whole lot more!
Just beautiful…as all natural materials are, so if you are a stone seeker, then I would suggest that you come on out and take a look for yourself, as this one is a keeper!
These slabs will only last for a short while, as they are bound to get reserved for the beauty that they individually deserve.
See you soon!
Stay tuned in for the up & coming Stone Feature of the Week!!!